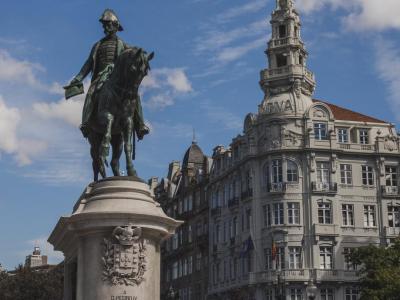 Estátua Equestre de D. Pedro IV (King Peter IV Monument), Porto
In 1866 a monument dedicated to King Peter IV, a monarch closely linked to Porto, was inaugurated in the middle of the square. The monument, by French sculptor Anatole Calmels, consists of a statue of Peter IV riding a horse and holding the Constitution that he had fought to protect during the Liberal Wars. Pedro I of Brazil was the founder and first ruler of the Empire of Brazil and was also King of Portugal as Pedro IV.

His full name was Pedro de Alcântara Francisco António João Carlos Xavier de Paula Miguel Rafael Joaquim José Gonzaga Pascoal Cipriano Serafim. He was born on October 12, 1798, in Queluz, the fourth child of King Dom João VI of Portugal and Infanta Charlotte of Spain. The Emperor-King was a member of the Portuguese branch and founder of the Brazilian branch of the House of Braganza and was referred to using the honorific "Dom".
Sight description based on Wikipedia.
Estátua Equestre de D. Pedro IV (King Peter IV Monument) on Map
Walking Tours in Porto, Portugal