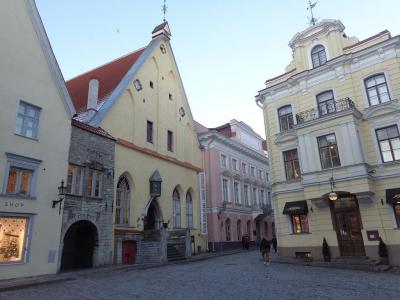 Estonian History Museum - Great Guild Hall, Tallinn
The Great Guild Hall is a wonderful old Gothic style structure that is located in the Old Town of Tallinn. It is not very far from Town Hall, and is just a couple of blocks south of St. Olaf's Church. You can find it directly across from the Holy Spirit Church.

It was built over a three year period that started in 1407. It was first used as a meeting place for Tallinn's Merchant's Union. During medieval times, local craft guilds controlled most aspects of business and commerce. The merchants of Tallinn banded together and became quite wealthy in their own right. Several old rooms in the building have been renovated and opened to the general public.

The hall now houses the Estonian History Museum, which brings to life over eleven thousand years of history of this part of the world. The displayed objects include archeological pieces, archived materials, ethnography, photography, glass and porcelain.
Estonian History Museum - Great Guild Hall on Map
Walking Tours in Tallinn, Estonia