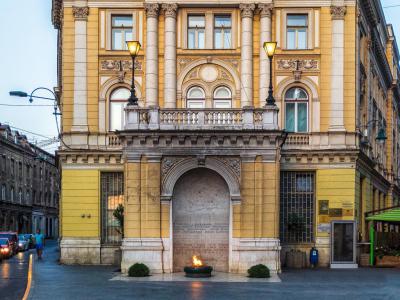 Eternal Flame, Sarajevo
The Eternal Flame is a memorial to military and civilian casualties of World War II. It is located in the historic center of Sarajevo at the intersection of Ferhadija Street and Marshal Tito Street.

The memorial was designed by architect Juraj Neidhardt. It was dedicated in 1946 to the anniversary of the liberation of Sarajevo from Nazi Germany.

The memorial appears as a gate with an arched doorway. In front of the memorial is an eternal flame. Inside, a cemented plaque is inscribed in Bosnian with the following:

"With courage and the jointly spilled blood of the fighters of the Bosnian-Herzegovinian, Croatian, Montenegrin, and Serbian brigades of the glorious Yugoslav Army; with the joint efforts and sacrifices of Sarajevan patriots Serbs, Muslims and Croats on 6 April 1945 Sarajevo, the capital city of the People's Republic of Bosnia and Herzegovina was liberated. Eternal glory and gratitude to the fallen heroes for the liberation of Sarajevo and our homeland on the first anniversary of its liberation - a grateful Sarajevo."
Walking Tours in Sarajevo, Bosnia-Herzegovina