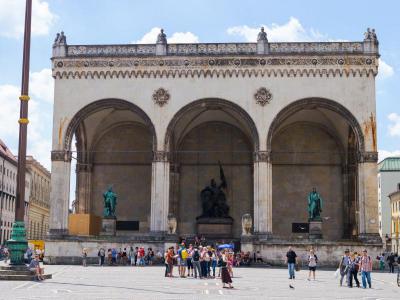 Feldherrnhalle (Field Marshall's Hall), Munich
The Feldherrnhalle, also known as Field Marshal's Hall, is a substantial loggia constructed as a tribute to Bavarian military leaders and soldiers who lost their lives in the Franco-Prussian War. This memorial project was initiated by King Ludwig I of Bavaria and designed by Friedrich von Gartner. Its construction took place from 1841 to 1844 on the location of the former city gate, Schwabinger Tor, situated at the southern terminus of Ludwigstrasse, near the Palais Preysing. The architectural inspiration for this structure was drawn from the Loggia dei Lanzi in Florence.

At the front of the building, there are sizable bronze statues honoring two esteemed Bavarian military figures: Johann Tilly and Karl Philipp von Wrede. These sculptures were crafted by the sculptor Ludwig Schwanthaler. In 1882, another sculpture commemorating the Bavarian army's achievements in the Franco-Prussian War was added, designed by Ferdinand von Miller Jr. and placed in the center of the memorial. As you ascend the steps leading to the monument, you'll notice two lion sculptures, created by Wilhelm Ruemann in 1906. One of these lions, with an open mouth, gazes towards the Residenz Royal Palace, while the other, with a closed mouth, faces the nearby church.

However, the place is perhaps best known for an incident that occurred in 1923, known as the Beer Hall Putsch, when there was a clash between the Bavarian Police and followers of Adolf Hitler. This event led to the arrest of Hitler and his supporters, who would later play significant roles in history.
Feldherrnhalle (Field Marshall's Hall) on Map
Walking Tours in Munich, Germany
Useful Travel Guides for Planning Your Trip
--- Top 10 Cafes and Restaurants in Munich
While there are many restaurants and cafes in downtown Munich for a visitor to choose from, by far not all of them are truly worth visiting. Here's the solid list of quality cafes and restaurants that will add greatly to your Munich experience. Each restaurant and cafe featured here offers... 12 German-Made Things to Buy in Munich
The Bavarian capital Munich, much as the whole state of Bavaria, form an inseparable part of the German image, although a very unique part in its difference to the rest of the country, including the language. Bavarian beer occupies an important place in German heritage, from the infamous 1920s Beer...