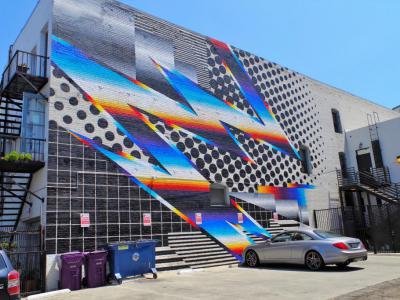 Felipe Pantone's Mural, Long Beach
Felipe Pantone is an Argentinian-Spanish artist whose work is widely regarded as the cutting edge of street art – "looking several light years ahead into the future" – which largely complements the stark modernity of today's cityscapes. Firmly anchored in the present, it features the visual imagery that can only be found in contemporary times, a fusion of bold elements of graphic design with highly evolved geometric shapes, which together produce an ultra-modern aesthetic.

Pantone's art straddles conventional graffiti, typography and abstraction. His vibrant murals are always dynamic and tensioned compositions which, albeit static in essence, create an illusion of movement if looked at from different angles.
Felipe Pantone's Mural on Map
Walking Tours in Long Beach, California