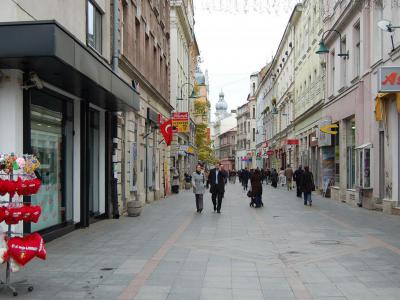 Ferhadija Street, Sarajevo
Ferhadija Street is one of the primary pedestrian streets in Sarajevo. It runs east to west from Saraci Street to Marshal Tito Street. It is known as the home to several important buildings and structures, making it a favorite street for tourists.

Some of the significant places on Ferhadija Street are Sarajevo Market hall, Sacred Heart Cathedral, the Ferhadija Mosque, and multiple foreign embassies. Ferhadija Street is also home to the Eternal Flame, a memorial to military and civilian casualties in World War II.

The street provides easy access to shopping and dining establishments. Outdoor art proliferates the street, especially in the form of graffiti. Visitors can find street vendors selling souvenirs from carts outside, featuring the most popular tourist locations. Ferhadija Street also offers easy access to the Museum of Crimes Against Humanity and Genocide.

Ferhadija Street was named after the Ferhadija Mosque, built by Ferhad-bey Vukovic-Desisalic, governor during Ottoman rule in the 16th century. It was renamed twice. Once from 1928 to 1941 after King Peter II Karadjordjevic and again from 1945 to 1993 after Yugoslavian hero Vaso Miskin Crni. Since 1993, the old name Ferhadija has been restored.
Walking Tours in Sarajevo, Bosnia-Herzegovina