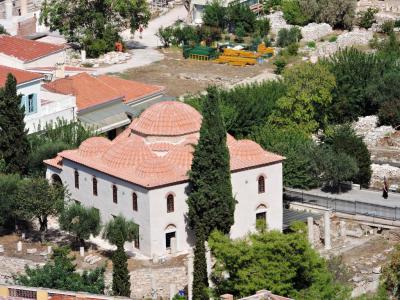 Fethiye Mosque, Athens
On the site of the Roman Agora stands the Fethiye Mosque or Mosque of Mehmet the Conqueror, one of the few religious buildings erected by the Ottomans that is still visible in Athens.

Built in 1456 on the ruins of an 8th-century Byzantine basilica, in honor of Sultan Mehmet II, an admirer of ancient Greek philosophers, this mosque is named Fethiye, which means "conquest". The Athenians, less inclined to celebrate the Empire that occupied them, simply called it the "Wheatmarket Mosque" because of its proximity to the Agora, which became a wheat market under Ottoman rule.

During the brief occupation of the city by the Venetian forces in the Morean War (Oct 1687 – May 1688), the mosque was converted by into a Catholic church, dedicated to Dionysius the Areopagite. When Athens was liberated from the Ottoman yoke in the early 19th century, the minaret was torn down and the mosque became a school. From 1834 and until the early 20th century, it was used successively as a barracks, a military prison and finally as a military bakery.

By 2017, the mosque has undergone an extensive restoration and renovation, now hosting various cultural exhibitions that are open to the public.
Walking Tours in Athens, Greece
Useful Travel Guides for Planning Your Trip
---