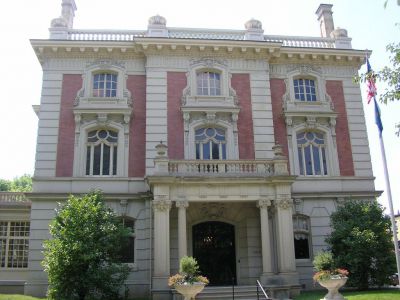 Filson Historical Society, Louisville
The Filson Historical Society (formerly the Filson Club) is named after early Kentucky explorer, John Filson, who wrote "The Discovery, Settlement, and Present State of Kentucke" which included one of the first maps of the state. The Filson's primary founder was Col. Reuben T. Durrett. In May 1884, he and nine other prominent Louisville residents, including Gen. Basil W. Duke, Judge Alexander Pope Humphrey, and Richard H. Collins, founded the Club in a bid to preserve Kentucky's past. Pursuant to their goal, the Filson maintains a small museum, one distinctive possession of which is a section of American beech tree trunk, with the carved legend "D. Boon kilt a bar [killed a bear] 1803."

In the early 1910s, after Durrett's health had seriously deteriorated, he decided to sell his collection to the University of Chicago. Most of the Filson's holdings, which were not part of the purchase, went to Chicago as well, so the Club was forced to start again.

Since 1946, the Filson has amassed a collection of over 1.5 million manuscript items and over 50,000 volumes in the library. Additionally, it has accumulated an impressive collection of Ohio Valley portraits and over 10,000 museum artifacts. The general public has access to the Filson's vast resources, which provide valuable source material for books, articles, dissertations, and other work. The Filson also presents a variety of programming, including public lectures and academic conferences. In 1986, the Society moved to its current location on Third Street in Old Louisville. The building is called Ferguson Mansion and was constructed between 1901 and 1905 by Edwin Hite Ferguson. Upon its completion, the Mansion was declared the most expensive home in the city.

In 1991, Thomas Walker Bullitt willed his farmhouse and immediate historic properties to The Filson Historical Society.
Sight description based on Wikipedia.
Filson Historical Society on Map
Walking Tours in Louisville, Kentucky