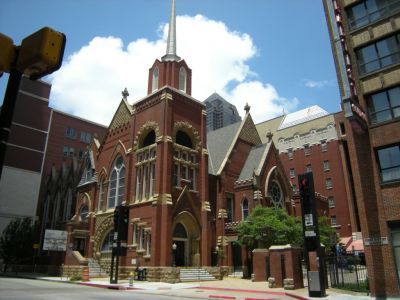 First Baptist Church of Dallas, Dallas
The First Baptist Church of Dallas is a very well known house of worship in Dallas. In modern terms, it is a mega church, which means it has a large number of members. As a part of the Southern Baptist Convention, it has about 13,000 members in 2018.

The church was founded in 1872. The current building was completed in 1891, and has been a prominent part of the downtown landscape for years. The church is done in a Gothic style of architecture, and covers over six city blocks in the downtown area. There are seven major buildings in the overall complex.

In the current day setting, the church not only ministers to its thirteen thousand members, but also runs a small college, a school, and several radio stations throughout Texas. The local congregation is also known for its mission work in the downtown Dallas.
First Baptist Church of Dallas on Map
Walking Tours in Dallas, Texas