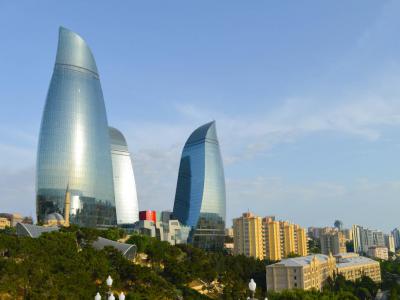 Flame Towers, Baku
(must see)
Flame Towers is a series of three skyscrapers that are occupied by office space, residential apartments, a hotel and a shopping mall. The towers were opened in 2013.

Flame Tower 1 is the tallest of the three at 597 feet. Flame Tower 2 is 541-feet tall and Flame Tower 3 rests at 528 feet. The three towers are meant to represent Azerbaijan's nickname, "The Land of Fire." The Azerbaijani nickname comes from its Zoroastrian roots in which flames were thought to be a symbol of divinity.

The towers are covered with LED screens that display light shows visible from throughout the city. The screens use over 10,000 LED luminaires. Light shows include the Azerbaijani flag, tanks of water being filled and giant flames. These light shows change every two minutes.

The towers are best viewed from the observation area of Dagustu Park. They are particularly lovely in the evening hours when the lights dominate the city skyline.
Walking Tours in Baku, Azerbaijan