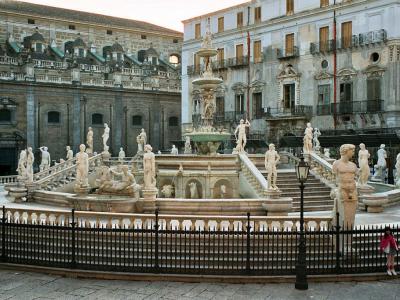 Fontanna della Vergogna (Fountain of Shame), Palermo
(must see)
This is the story of how the Fountain of Shame got its name. The fountain, a vast waterworks of a fountain populated by gods, demons, animals and wood sprites, was created as a garden folly for Luigi de Toledo in Florence in 1554. Luigi, brother of a former Viceroy of Sicily, Garcia de Toledo, became heavily in debt. So, he sold the fountain.

The fountain was the work of sculptor Francesco Camilliani, of Florence. It held 48 statues and a lot of plumbing. It required disassembling, shipping and reassembling. There was a chance of loss and damage. But the senate of Palermo didn't care. It was just the thing to plop down in front of the Pretorio Palace, the town hall.

The fountain was designed to be entered. An outer circle of stone guards a moat of water. This outer ring is joined to an inner ring by steps, allowing entrance to the center. The gods of old surround the visitor. Fantasy creatures abound in the rings, their open mouths spraying water.

In the 18th and 19th centuries the fountain was not fully appreciated. The nudity of the human figures did not go over as well as they might have in Florence. It is said nuns from a neighboring convent vandalized the nudes, breaking off some offending body parts. A more likely story is the Pretoria Palace had become the center of run-away corruption.

In any event the square and the fountain were respectively awarded the names Square and Fountain of Shame.
Fontanna della Vergogna (Fountain of Shame) on Map
Walking Tours in Palermo, Italy