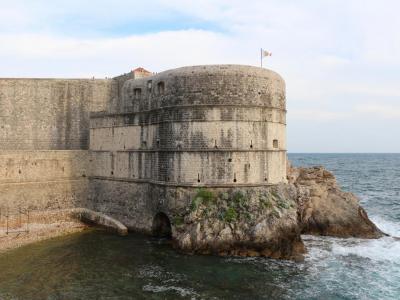 Fort Bokar, Dubrovnik
Fort Bokar, otherwise known as "Zvjezdan", is considered to be among the most beautiful examples of harmonious and functional fortification architecture. This two-story casemate fortress was built by the Italian architect and sculptor Michelozzo di Bartolomeo Michelozzi from 1461 to 1463 as part of the city walls which at that time were under reconstruction. The cylindrical fort protruding into the sea almost entirely was conceived as the key point of defense of the Pila Gate, the western fortified entrance to Dubrovnik, and, after the Minčeta Tower, is the second most key point in the defense of the western land approach to the city.

*** Game of Thrones Tour ***
Fort Bokar frequently appears throughout all seasons of Game of Thrones when they show people walk past the city walls of King's Landing. One of the most memorable scenes is in Season 2, Episode 8, where Tyrion and Lord Varys are looking out at sea discussing the defense strategies for King's Landing with the Red Keep visible in the background.
Sight description based on Wikipedia.
Walking Tours in Dubrovnik, Croatia