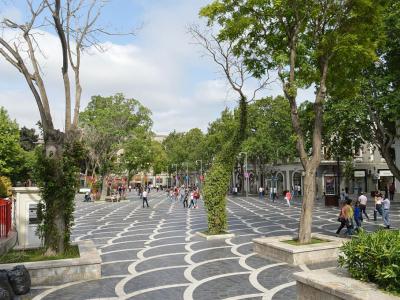 Fountains Square, Baku
(must see)
Fountains Square is a square in the central part of downtown Baku. It is named after the many fountains that populate the area. It stretches from Istiglaliyyat Street to Nizami Street along the walls of Icheri Sheher.

The square often hosts community events and celebrations. However, Fountains Square is mostly known as a casual gathering place for both locals and visitors. The square itself offers an artistic, mosaic style walkway, numerous shade trees, a carousel and many fountains. There is also ample room to sit on benches located both in sunny spots and under the shade.

Public art is located throughout the square. Visitors will also find numerous boutiques, shops and eating areas. Both restaurants and food carts are open throughout the day and into the evening.

The square was formerly called Parapet, which is still the name most of the locals use when describing the location. The name was changed to Fountains Square in 2010 after its renovation.
Walking Tours in Baku, Azerbaijan