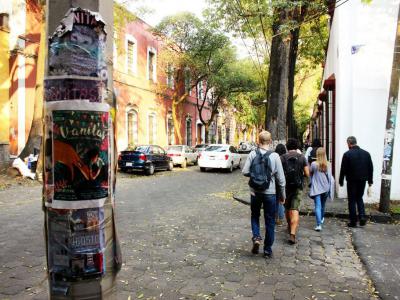 Francisco Sosa Avenue, Mexico City
Probably the cutest street in the Coyoacán, if not the whole Mexico City, and one of the oldest in Latin America, Francisco Sosa street is named after a writer, poet and journalist Francisco Sosa. As if pursuant to his legacy, the street has a truly poetic atmosphere manifested in colorful historic architecture, narrow sidewalks, painted address tiles and signage, cobblestones, huge trees and lush vegetation alongside. Thanks to the very little motor traffic, a stroll here feels like walking centuries back into the colonial period, when the road linked the then Coyoacán village to the village of San Ángel.

Today, the iconic street starts at the Centennial Garden Arcade and ends at the Panzacola Street bridge, lined along the way by as many as 65 listed monuments, including: Casa del Sol, the place where the Constitution of Mexico was written in 1917; Fonoteca Nacional, a former house of Octavio Paz, the laureate of the Nobel Prize for Literature; an extremely cute Plaza de Santa Catarina, with a chapel and colorful paper decorations hung across the place; the Italian Cultural Institute and many others.

One of the most notable buildings, sitting on the corner of Calle Francisco Sosa and Plaza de Centenario, is the Casa de Ordaz, long thought to have belonged to conquistador Diego de Ordaz, who died in 1532, but in reality built sometime around the 18th century. For those interested in art, there are Galleria El Circulo Azul and Museo Nacional de la Acuarela "Alfredo Guati Rojo" also worth checking out on the side street, called Salvador Novo.

Pretty quiet compared to most places in Mexico City, this avenue has a charming old world vibe, and is a great way to discover Coyoacán, especially in the morning, if you walk it West to East and then sit at a cafe on the lovely main plaza. The neighborhood abounds in nice cafes and restaurants, and has a great number of fruit carts along the way, so you can eat as you walk. It is also cool for a memorable photoshoot!
Francisco Sosa Avenue on Map
Walking Tours in Mexico City, Mexico
Useful Travel Guides for Planning Your Trip
--- Souvenir Shopping Guide: 17 Must-Buy Local Products from Mexico City
Both historic and modern day Mexico's are worth each other in terms of cultural and artistic heritage. The country's capital Mexico City is a showroom of what the label "Made in Mexico" stands for in its entirety. Whether it's authentic food, drink or piece of craftsmanship... 10 Must-Try Mexican Foods in Mexico City
While Mexico is a treasure trove in terms of cultural and artistic heritage (ancient history, architecture, etc.), the vast majority of visitors to the country are lured mainly by, let's face it, bodily pleasures. The latter are manifested in the form of sandy beaches, sun and, most...