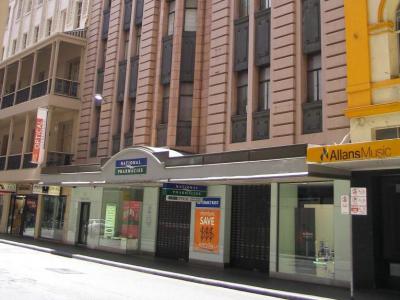 Gawler Place, Adelaide
Gawler Place is a charming single-lane road located in the heart of Adelaide's city center. Running from North Terrace to Wakefield Street, this street is home to several historic buildings that are worth exploring. Some of these buildings include Gawler Chambers, the Oriental Hotel, the former Claridge House, and the Allan's Building.

In January 2019, the Adelaide City Council initiated an upgrade plan for Gawler Place, which was completed in 2020. The upgrade aimed to create a people-focused street that connected to Adelaide's premier shopping destination. The result of the upgrade is a low-speed shared-use environment that accommodates pedestrians, bicycles, and vehicles.

One of the key features of the upgraded Gawler Place is the wider footpaths and new road surfaces, which enhance the street's appeal and make it more inviting for visitors. The improved lighting, innovative shade structure, and large trees and understorey plants further ensure that Gawler Place is a cool, shady, and attractive place to visit.

Moreover, the street's dining areas have been revamped, making it an attractive destination for outdoor dining. This enhancement invites visitors to relax and enjoy their meals in a comfortable and inviting environment. Additionally, public art has been included in the upgrade to transform the street into a space that draws people in to stop, connect, and discover.

The public art installations aim to tell stories, surprise, delight and inspire visitors. One of the innovative and bold installations is "Flow" by Laura Wills and Will Cheesman in collaboration with Exhibition Studios. The stainless steel installation was commissioned by the City of Adelaide as part of the Gawler Place upgrade.

Gawler Place is now an excellent place to dine, shop, and explore while enjoying the public art installations and the street's historic buildings.
Walking Tours in Adelaide, Australia