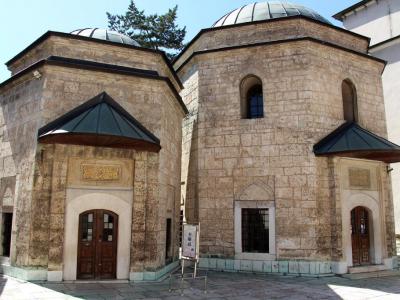 Gazi Husrev-beg Mosque, Sarajevo
(must see)
Gazi Husrev-beg Mosque is a Sunni Islam mosque in the historic center of Sarajevo. This 16th-century mosque was designed by architect Acem Esir Ali using Early Period, Classical Ottoman architecture. Construction was completed in 1530. Along with the mosque, the plans included Islamic primary and secondary schools, a public bath, and a marketplace.

The mosque was retrofitted with electricity and indoor lighting in 1898 under the Austro-Hungarian Empire. It was the first mosque in the world to have these modern conveniences.

The mosque was targeted by Serbians during the Siege of Sarajevo. It suffered major destruction, but reconstruction efforts began almost immediately at the end of the siege. The new interior was designed by contemporary Bosnian calligrapher Hazim Numanagic.

Gazi Husrev-beg Mosque is considered the largest historical mosque in the country. It is also one of the city's most popular tourist attractions. Visitors are welcome to tour the mosque and its museum daily from 9 AM to 7 PM.
Gazi Husrev-beg Mosque on Map
Walking Tours in Sarajevo, Bosnia-Herzegovina