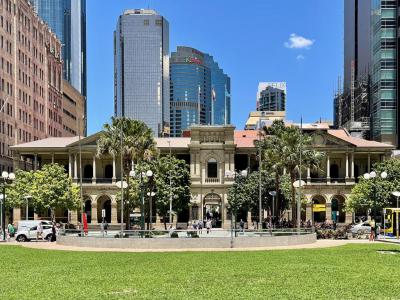 General Post Office Building, Brisbane
The General Post Office building is a beautiful historical building first opened on 28 September 1872. The building is made of sandstone and features deep verandahs and high ceilings. The site where the building sits today once stood a prison that housed women convicts. The prison building was demolished in 1871 to make room for the new post office building.

A clock mounted in the pediment positioned above the main entrance was once illuminated by a gas powered light. It was later replaced by a smaller, electric clock. The first typewriter to be used in any post office in any Australian city was used at this building in 1892.

The square in front of the General Post Office building is called Post Office Square. There are various statues and fountains within the square. One is a statue of Major-General Thomas William Glasgow who was leader of one of the light horse brigades that landed at Anzac Cove in Gallipoli and later a Senator for Queensland. Post Office Square is well known for its excellent food court where each day the hoards head for a bite to eat.
General Post Office Building on Map
Walking Tours in Brisbane, Australia