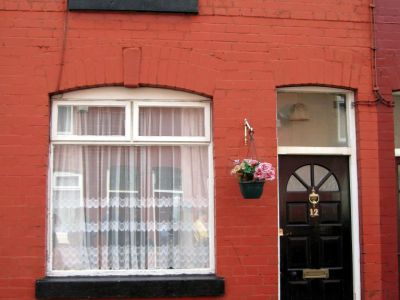 George Harrison's Birthplace, Liverpool
George Harrison, lead guitarist of the legendary Liverpudlian rock band The Beatles, was born at 12 Arnold Grove, in the Wavertree area of the city. The modest two-storey terraced house, tucked away in a suburban cul-de-sac, is a world away from the fame and fortune Harrison found with the Beatles' astonishing trans-Atlantic success. Harrison's parents first rented the house in 1930, and paid just ten shillings, or around a dollar, in rent per week. George was the fourth Harrison child, and was born in the house in 1943, at the height of German aerial attacks on the city.

The house at 12 Arnold Grove no longer houses members of the Harrison family. They moved to a new council property when George was seven years old. In his autobiography, the famously spiritual guitarist recalled a tough upbringing in the home, with only a coal fire for heating, an outside toilet and rooms measuring just ten feet squared. Harrison is quoted as saying that, despite the cramped, unglamorous surroundings, the house was a happy family home for him and his siblings. Despite remaining a private residence, 12 Arnold Grove draws hundreds of Beatles fans each year, particularly following Harrison's untimely death in 2001.
George Harrison's Birthplace on Map
Walking Tours in Liverpool, England