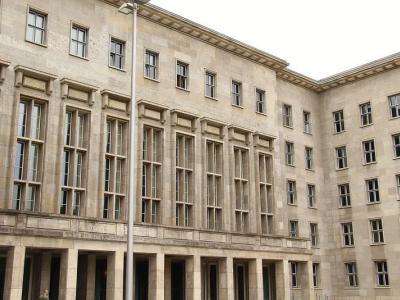 Goering's Air Force Headquarters, Berlin
Hermann Goering's air force headquarters, formerly known as the Reichsluftfahrtministerium ("Ministry of Aviation"), was the largest office building in Europe at the time of its construction, described as "in the typical style of National Socialist intimidation architecture" by one writer.

With its seven storeys and total floor area of 112,000 sq m (1,210,000 sq ft), 2,800 rooms, 7 km (4.3 mi) of corridors, over 4,000 windows, 17 stairways, and with the stone coming from no fewer than 50 quarries, the vast building served the growing bureaucracy of the Luftwaffe, plus Germany's civil aviation authority which was also located there. Yet it took only 18 months to build, the army of laborers working double shifts and Sundays (the first 1,000 rooms were handed over in October 1935 after just eight months' construction). When finally completed, 4,000 bureaucrats and their secretaries were employed within its walls.

The building was one of the few in central Berlin to escape serious damage during the Allied bombing offensive in 1944-45. After the war, it was used by the Soviet military administration until 1948, and from 1947-49 by the German Economic Commission, which became the top administrative body in the Soviet Occupation Zone.

In 1950-52 an extraordinary 18 m (59 ft) long mural was created at the north end along Leipziger Straße, set back behind pillars, made out of Meissen porcelain tiles. Created by the German painter and commercial artist Max Lingner together with 14 artisans, it depicts the Socialist ideal of contented East Germans facing a bright future as one big happy family.

From 1991–95, after German reunification, it housed the Treuhand (Trust Establishment), which privatized former enterprises operated by the East German government. Its first chairman was Detlev Rohwedder, who was murdered by Red Army Faction terrorists on 1 April 1991, after which the building was renamed the Detlev-Rohwedder-Haus in his honor. From 1990 the Berlin branch office of the German Finance Ministry was also located here, and since 1999, following a vast refurbishment, the building has served as the Ministry's headquarters.
Goering's Air Force Headquarters on Map
Walking Tours in Berlin, Germany
Useful Travel Guides for Planning Your Trip
---