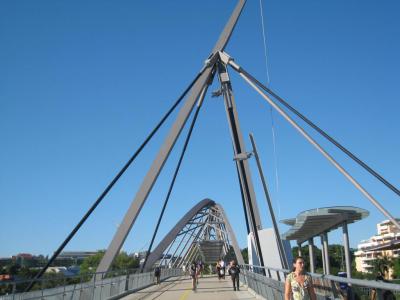 Goodwill Bridge, Brisbane
Goodwill Bridge is a pedestrian bridge that crosses the Brisbane River. It is located between Stanley Street and Gardens Point Road. It is open to both foot traffic and bicycles.

The bridge is 21.3 feet wide and 1,480 feet long. Goodwill Bridge is made from reinforced steel and brushed concrete. It was designed by architect Philip Sutton Cox, who also designed Singapore's Helix Bridge and the award-winning One One One Eagle Street building in Brisbane.

The asymmetrical bridge is functions doubly as a means of transportation and a work of art. It is also a good place to stop and relax. In the midst of the bridge is a seating area and coffee cart where visitors can watch boats pass through the river or take in a stunning vista of Brisbane.

Goodwill Bridge is widely used by both locals and visitors. Some estimates show that the bridge experiences foot traffic of about 40,000 unique individuals every day.
Walking Tours in Brisbane, Australia