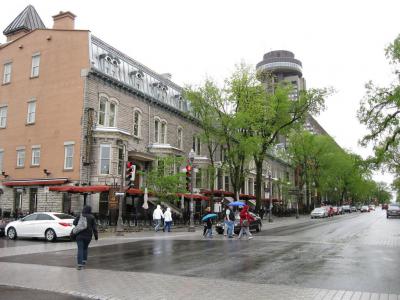 Grande Allée, Quebec City
Québec City might be known for its historic sights, but it has a distinctive nightlife scene as well. Though the rejuvenation of the Saint-Roch neighborhood has led to new venues and interesting bars, La Grande-Allée remains the epicenter of the city's nightlife, full of historical buildings that have been converted into bars and dance clubs. Running parallel to the Saint Lawrence River, on the hill of Quebec, this thoroughfare is renowned for its restaurants and beautiful architecture reminding of the prestigious status of its residences at the turn of the 20th century.

After the departure of the British Imperial garrison from the Citadel and its surroundings, in 1871, the Grande Allée underwent several modifications, including demolition of military infrastructure (e.g. Hope, Prescott and Palais gates). Were it not for the intervention of Lord Dufferin, the then Governor-general of Canada, the city walls could have been razed too. The Parliament building was constructed here in 1877.

Towards the end of the 19th century, the road was widened and fitted out in such a way as to create a pleasant and healthy living environment where the bourgeoisie could take up residence; subsequently, several prominent citizens had settled in the area. Some of these sumptuous residences now house cafes, clubs and restaurants.

For several years now, the City of Quebec has been organizing New Year's Eve celebrations on Grande Allée, with rides, stages for musical performances and fireworks, aimed at entertaining both tourists and locals.

Those in the mood for neon lights, thumping bass, and big crowds should head to the Allée all year round. The legal drinking age is 18 throughout the province, and this is the place where teens can be found reveling in their newfound freedom. If you're in search of an LGBTQ-friendly place, head over to Le Drague, the city's gay club, for some guaranteed fun.
Sight description based on Wikipedia.
Walking Tours in Quebec City, Quebec