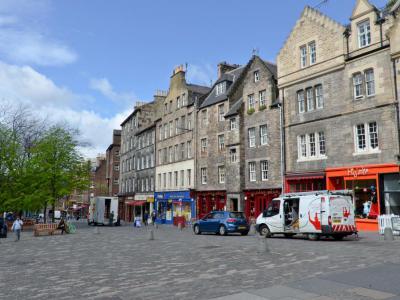 Grassmarket, Edinburgh
One of the best places to shop or relax over a pint or a meal in Edinburgh is undoubtedly the Grassmarket. This historic place, nestled in a small valley set below the surrounding street level, between 1477 and 1911 was the most important horse and cattle market in the city. And since it drew large crowds, it was also often used as the place for public executions.

"The Shadow of the Gibbet", dark paving stones laid out in the form of a gibbet next to the Covenanter's Monument, are a sombre reminder of that practice. The Bow Well on the one side of the market dates back to 1681.

According to legend, a woman named Maggie Dickson, a fishwife accused of murdering her child and sentenced to death for her crime, was hanged here but miraculously survived the ordeal! Apparently, in those days, the "until dead" provision didn't quite yet settle in the sentence proceedings.

Maggie was duly hanged and then her body, cut down, was taken away for burial; but on the road to the cemetery, she woke up. She couldn't be re-tried and therefore was considered having paid her debt to society fully and set free. There is a pub in the market that bears her name.

The market had been a poor area until the 1980s when it grew popular with students – perhaps due to its numerous pubs and clubs. Duly renovated, with many of the pubs setting up outside terraces and installing dining rooms, it saw a lot of shops move in, making the market a great place to find quality clothes and souvenirs at bargain prices.

Why You Should Visit:
Quirky, safe and interesting; great for those who need a regular change of scenery, as there is a variety of shops and pubs for every wallet and taste of music.

Tip:
Check out Carnivàle Vintage for a wonderful selection of fun vintage clothes, Tasty Buns for a pastry and a coffee, Hula Juice Bar for a healthy meal, and Mary's Milk Bar for pure indulgence.
Up the road from Grassmarket goes Victoria Street which is also well worth a visit, together with Royal Mile (further up) which has lots of cool independent shops and restaurants/cafés.
Walking Tours in Edinburgh, Scotland
Useful Travel Guides for Planning Your Trip
---