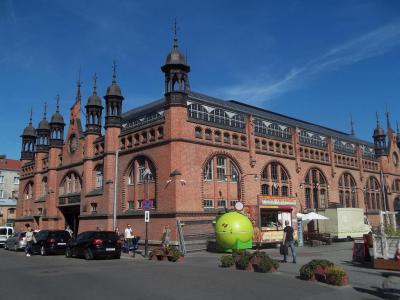 Hala Targowa (Market Hall), Gdansk
The Market Hall was built in the late 19th century. The style is eclectic. The hall was designed by architect Kurt Fehlhaber and built in 1896. The interior contained almost 200 stalls and kiosks and administrative offices and a police station. The building was spared serious damage in World War II.

A comprehensive program of restoration was launched in 2000. During the renovations the original foundation of the Romanesque style St Nicholas Church were discovered. An underground archeological museum was founded under the Market Hall to house the medieval artifacts and bits of the ancient chancel and nave.

The Market Hall is located on the site of the Dominican monastery demolished in the 1800s. It is a single story building in the eclectic style with an elongated floor plan. It has a metal roof framework marked at intervals by mini-turrets with spires. Two rows of cast iron pillars divide the Hall into three bays.

Rows of clerestory windows over huge semi-circular arched windows give the effect of a basilica. Four entrances are positioned on the axes of the building. There are many embellishments, e.g., pseudo-avant-corps, polygonal turrets, buttresses and the coat of arms of Gdansk.

There are three levels set up for trade. The museum can be visited Mondays through Fridays from 9 am to 6 pm.
Hala Targowa (Market Hall) on Map
Walking Tours in Gdansk, Poland