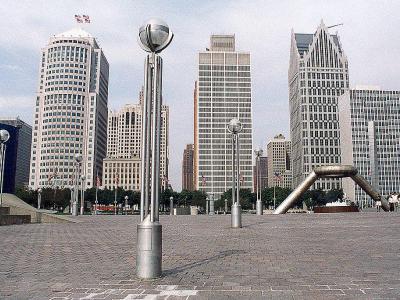 Hart Plaza, Detroit
Hart Plaza is a 14-acre plaza in Detroit that easily accommodates 40,000 people. This popular gathering place has been an essential part of the city's landscape since its opening in 1975. The plaza is named after U.S. Senator Philip Hart, who was a Detroit resident and one of the city's key figures.

The plaza has a location that is easy to find at the intersection of Jefferson and Woodward Avenues. One of the highlights is the Horace E. Dodge and Son Memorial Fountain, which stands out for its unique contemporary style. Isamu Noguchi designed the fountain in 1978.

Hart Plaza has enjoyed status as a favorite place for summer festivals, perfect for its open spaces. Concerts are also a popular type of event, representing many different musical styles. You can also catch other special events, ranging from artistic events to ethnic and culinary festivals. The plaza is an excellent place to sit back and enjoy people-watching.
Walking Tours in Detroit, Michigan