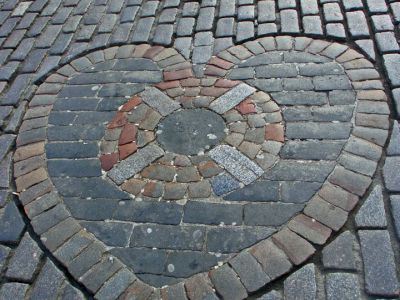 Heart of Midlothian, Edinburgh
While exploring the Royal Mile, you might see some of the locals partake in a rather bizarre, if not disgusting, ritual when passing a spot near the west door of Saint Giles Cathedral. As you draw closer, be careful to keep out of range, as you will see them spit on the Heart of Midlothian.

This heart-shaped mosaic, set in the cobbled-stone pavement, marks the entrance to the building that was demolished in 1817, but still stays in the memories of the people who grew up in the area. They spit here for good luck.

The building was the Old Tolbooth, a medieval customs house, which was also used for meetings by the Estates of Scotland for a short period. In 1640 it housed the Court of Session, the principal jail of the burgh, where prisoners were often tortured prior to being taken out for public execution in front of the entrance.

According to legend, Edinburgh's petty thieves and not-so-petty criminals spat on the door, as they passed, to bring them luck against the day when they found themselves being taken through it.

Two centuries on, with the building gone, the heart in the cobble stones still reminds of the misery and torture carried out behind its walls.
Heart of Midlothian on Map
Walking Tours in Edinburgh, Scotland
Useful Travel Guides for Planning Your Trip
---