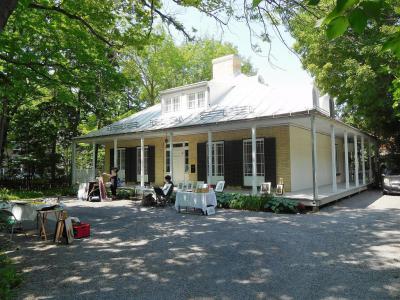 Henry-Stuart House National Historic Site, Quebec City
Take afternoon tea and cake in this charmingly authentic 19th-century cottage – one of the few remaining Regency-style Anglo-Norman cottages around. This type of colonial British architecture is distinguished by a large pavilion roof overhanging a low veranda surrounding the building.

Built in 1849 for Mrs. William Henry, the wife of a rich wood merchant, the house – which once used to mark the border between city and country – is now found on one of the biggest boulevards, but inside it has retained its elegant and rich decor. There are only a few rooms to visit, but the collection they house is amazing, with actual items that the Stuart family owned and used. Tours of the building and the original garden give visitors an idea of what life was like for well-to-do English families in Québec at the turn of the 20th century, as well as of how quickly the world has changed.

It's also lovely to have lemon cake and tea on the veranda at the end of the hour-long tour!
Henry-Stuart House National Historic Site on Map
Walking Tours in Quebec City, Quebec