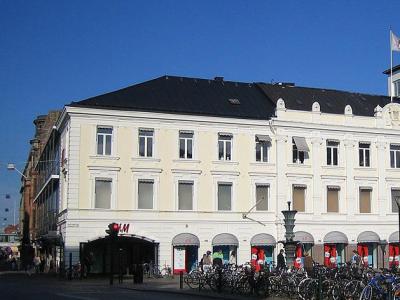 H&M, Malmo
Hennes & Mauritz AB, commonly known as H&M, is a famous Swedish multinational clothing-retail brand famed for its fast-fashion attire and accessories for men, women, teenagers and children.

If you are already acquainted with this trademark (a good chance that you are, considering that it has chains all over the world), you may want to use the opportunity and visit one of its stores on the home turf. The Malmo H&M shop is located in the historic building of the former Malmo Theatre, on Gustav Adolfs Torg.

One of the most famous buildings in the area, it dates back to the early 1800s, of which now only the façade remains, overlooking Gustav Adolf's square. The current façade came into being in 1882, following reconstruction after a fire.

The theater section was demolished when the property was converted into retail premises in 1961. H&M moved in here in 1973, promptly rebuilding the interior, whilst preserving the memory of the theater era, including the lyre decoration on the roof. Apart from H&M, the neoclassical building houses McDonald's and some other outlets, and is part of the Hansa mall.

Just as everywhere else, at H&M in Malmo you can find the trendiest, high-quality products at reasonable prices. Each section has a large area for different kinds of merchandise. Great service is also part of the setup, as usual.
Walking Tours in Malmo, Sweden