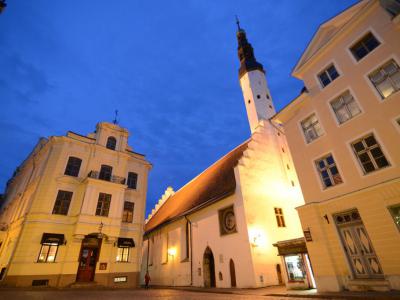 Holy Spirit Church (Puhavaimu Kirik), Tallinn
There is a lot of city history associated with the Holy Spirit Church of Tallinn. In 1531, they became the very first church to hold regular worship services in Estonian. The pastor at the time was Johann Koell, who also happens to be the person who authored the oldest surviving book known that was written in Estonian. With the assistance of Pastor Simon Wanradt from the St. Nicholas Church, they compiled a short catechism for the people in German and Estonian. It was published circa 1535.

Pastor Balthasar Russow of the Holy Spirit Church is another famous author/clergyperson from the organization. He wrote a history book on the countries of Estonia and Livonia, as well as the war that happened between the two countries in the 16th Century.

The building dates back to the 1200s and it also served as an almshouse for the magistrate of Tallinn. From an architectural perspective, the locals call the church the museum of styles, because the sanctuary and altar have artifacts from the medieval, Baroque, and Renaissance periods. You will also want to see the woodcarvings on the balcony, as well as the arch and pews. The church bell here is also the oldest surviving in the country, dating back to 1433.

The church holds services in English every Sunday at 3.00 p.m.
Holy Spirit Church (Puhavaimu Kirik) on Map
Walking Tours in Tallinn, Estonia