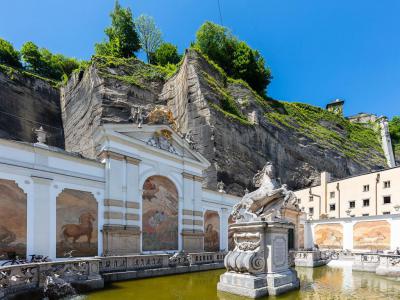 Horse Bath (Pferdeschwemme), Salzburg
Underneath the cliff-side of Monk's Hill (Mönchsberg) sits the largest of the two surviving Medieval horse baths in Salzburg which, back in the Middle Ages, were analogues to today's car washes. In the Sound of Music movie, this long fountain is the one that Maria and the Von Trapp kids dance around and splash in water during the instrumental ending to "My Favorite Things". Additional scenes for the movie were also shot at the fountain but were later cut out from the end version.

Both of Salzburg's horse bath fountains are fed by ancient underground canals that have been in use since Roman times and revamped repeatedly during the 700s and 1200s. This magnificent high baroque watering pond makes for a fabulous attraction nearby the former royal stables, located in what is now the Großes Festspielhaus (Large Festival House) just across the street on Hofstallgasse. The Prince Archbishop's horses were cooled, washed off and watered here after their ceremonial parades. At the center of the pond, a dramatic sculpture of a dynamic horse being restrained by its handler is backed by a great sequence of frescoes portraying horses in various states of dynamic activity.
Horse Bath (Pferdeschwemme) on Map
Walking Tours in Salzburg, Austria