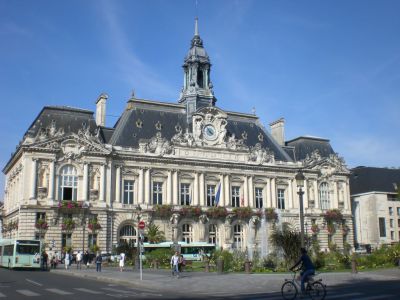 Hotel de Ville (City Hall), Tours
(must see)
Joan of Arc is remembered and celebrated in the City Hall of Tours. A triptych of her life by Jean-Paul Laurens decorates the hall. It is appropriate. Wars are recalled in a staircase. The aspirations of the revolution are not overlooked.

On the ground floor there is a stone peristyle serving as an exhibition space. The building is rather huge compared to the Place Jean-Jaeres or the Palace of Justice. More than any other civic building, it is meant to declare the virtues and authority of the Republic. The hall has a distinct Parisian ambience.

Various artists have contributed to this Hall on the Loire. There are four Atlantean sculptures by Francois Sicard on the facade. There is the clock, flanked by two caryatids, "Day and Night" by Emile Joseph Nestor Carlier. The rivers Loire and Cher are represented by two lengthy figures created by Jean-Antoine Injalbert.

The east and west wings of the Hall are decorated with works of art. "Courage" and "Strength" of Jean-Baptiste Hugues in the west wing. In the east wing we have "Education" and Vigilance" by Alphonse Cordonnier. The roof served as a model for the Hotel de Ville in Montreal Canada in 1922 when its roof was destroyed by fire.

The hall was built in 1904 by Victor Laloux. Inside the Hall as one enters, there is a golden square-shaped dome with the letters "RF", "Republique Francais." St. Joan would approve.
Hotel de Ville (City Hall) on Map
Walking Tours in Tours, France