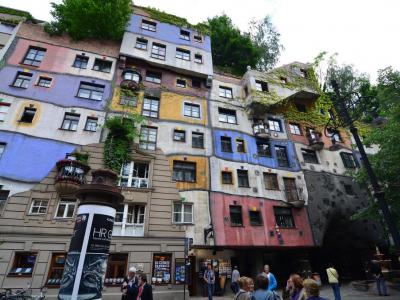 Hundertwasserhaus, Vienna
A relatively recent addition to the city's architectural heritage, the Hundertwasserhaus is a great example of 20th-century urban experimentation and certainly one of Vienna's top tourist attractions. Sitting as an antithetical statement about what architecture can be (as it's often compared to the surrounding buildings), this gloriously eclectic block of flats can almost look like a rainbow from afar, consisting of a frenzy of oriel windows, loggias, shiny ceramic pillars, glass embellishments, a gilded onion dome, roof gardens and even a slice of the pre-1983 building. There's simply nothing else like it in the city.

The idiosyncratic housing development was created in 1985 by avant-garde artist Friedensreich Hundertwasser, who wished to diverge from what he perceived as the rather soulless modern architecture emerging in Vienna's suburbs. The result was a structure that has been controversial since its construction – but further to his credit, Hundertwasser took no payment for the design, declaring that the investment was worth it to "prevent something ugly from going up in its place".

Why You Should Visit:
To marvel at an expression of sheer architectural exuberance that stands in contrast to the stately palaces (and pretty much everything else).

Tip:
As a private building it is closed to the public, but opposite is the Hundertwasser Village (9am–6pm daily) designed by the same artist – a bazaar of shops and cafés open to the public, and a pleasant place to peruse for quirky souvenirs.
Walking Tours in Vienna, Austria
Useful Travel Guides for Planning Your Trip
--- Top 16 Austrian Things to Buy in Vienna
Vienna stool, Viennese schnitzel, Viennese waltz, Vienna sausage, Viennese apple strudel... There's so much Vienna to it, that you might think you've heard it all. Luckily, chances are that you haven't and there's much more in store left to be discovered about this fascinating... 7 Ultimately Austrian Foods to Taste in Vienna
Once the center of the vast Hapsburg Empire, stretched from France in the West to Russia in the East, Austria has embraced many ethnic influences in its cuisine over the course of centuries. Many of the country's distinctive dishes reflect its multinational heritage. Coffee culture, for...