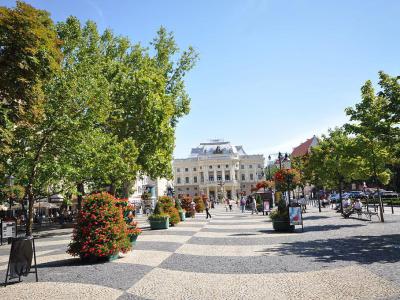 Hviezdoslav Square, Bratislava
As with most towns in Europe, Bratislava centers around large squares like the Hviezdoslav Square. It's a beautiful place to walk around, with memorials to national figures and lots of history. The square has been here and part of the Kingdom of Hungary for over 1,000 years.

Historically, the square has been the center of daily life and home to many important institutions. For example, the Cathedrale Notre Dame Cloister and the Slovak National Theater were located here. During medieval times, many of the noble families lived near here.

One of the most impressive monuments is to the square's namesake, Pavol Orszagh Hviezdoslav. He was born in 1849, and Hviezdoslav was a famous Slovak poet, dramatist, and Hungarian patriot. He was from a noble family and served in the Czechoslovak parliament from 1918 to 1920.

The square was recently renovated. Whereas it has historically looked like a small park, today's Hviezdoslav Square looks like the impressive city promenade that it is. It is primarily pedestrian-only, with many trees and quiet greenspaces.

Today, you'll find many important businesses and buildings here. The national opera house still stands here. The German and American embassy buildings are on the square, along with several popular hotels. On the north end of the square, you can find many popular restaurants and bars.
Hviezdoslav Square on Map
Walking Tours in Bratislava, Slovakia