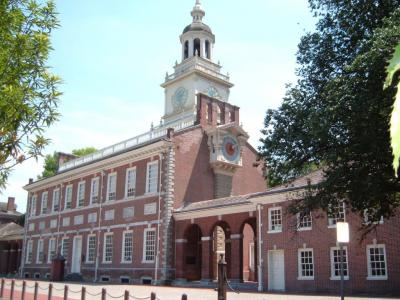 Independence Hall, Philadelphia
(must see)
World-famous for being the place where both the Declaration of Independence and the U.S. Constitution were discussed and adopted, this American landmark and World Heritage Site is now the centerpiece of Philadelphia's Independence National Historical Park. Completed in 1753, the simple colonial hall, designed in Georgian style, is a nice reminder of the nation's humble beginnings as rebellious colonialists wanting to make a change for the better ("We have it in our power to begin the World over again", as Thomas Paine fervently told his fellow citizens-to-be in his revolutionary pamphlet). Inside, you will get to see an original copy of the Constitution, and the inkwell used to sign the Declaration of Independence – both brilliantly constructed documents of declared and ratified Freedoms.

The complex which houses Independence Hall is a must to check out the historical sites; nearby are the museum of the Benjamin Franklin-founded American Philosophical Society, as well as the Second Bank of the U.S. You do have to go through security to get into the Independence Hall, and you must get your free tickets at the Visitor Center about a block north, at the corner of 6th and Market Streets (opens at 8:30am, but tickets are usually all gone by 10am in peak season, so plan ahead or reserve online!). The first ticketed tour begins at 9am and tours start every 30mins until 4:40pm, with rangers serving as guides. During extended hours (summertime only), no ticket is required from 5 to 7pm. Tickets also aren't required in the months of January and February and on July 4th, Thanksgiving Day, and Christmas Eve. 

Why You Should Visit:
To stand in the room where the nation was born almost 250 years ago – the same room where Thomas Jefferson, Benjamin Franklin, John Hancock, and later George Washington, Alexander Hamilton, James Madison and so many others stood, making incredibly courageous decisions.
Among the highlights is George Washington's original Rising Sun Armchair, known so because of Benjamin Franklin's hopeful observation about the symbol carved on the headrest: "I have often looked at that behind the president without being able to tell whether it was rising or setting. But now I... know that it is a rising...sun."

Tip:
Sitting in the back of the Hall, don't miss the statue of Commodore John Barry – one of the most underappreciated figures in colonial history. Barry was the first captain to be placed in command of a U.S. warship under the Continental flag and after the war he was the first commissioned U.S. naval officer at the rank of Commodore in 1797 by President Washington. Barry is often credited as "The Father of the American Navy", sharing that moniker with John Paul Jones and John Adams.
Walking Tours in Philadelphia, Pennsylvania
Useful Travel Guides for Planning Your Trip
---