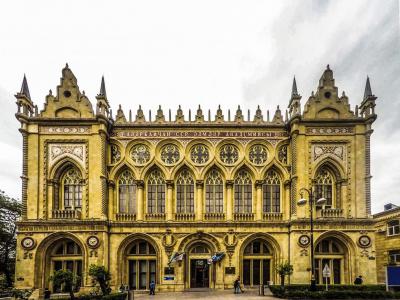 Ismailiyya Palace, Baku
Ismailiyya Palace is a historic building on Istiglaliyyat Street. Construction on the palace was completed in 1913. The Venetian Gothic building was constructed for the Muslim Charity Society with funding by Azerbaijani industrial oil magnate Musa Naghiyev. It was named in honor of Naghiyev's deceased son, Ismayil.

The palace was designed with inspiration from a palace in Switzerland. This inspiration was chosen by Naghiyev as he often saw the Swiss palace while visiting his son as he was undergoing treatments for his illness. Naghiyev sent architect Józef Plośko to Switzerland for three years so he could study the building while drawing up plans for the palace.

The palace has carved, golden letters on the facade that show its intent for the Muslim Charity Society. It also has a stone statue surrounded by angels. The angels were meant to represent the grandchildren that Naghiyev would have had if his son had survived his illness.

Ismailiyya Palace currently serves as the Presidium of the Academy of Sciences of Azerbaijan.
Walking Tours in Baku, Azerbaijan