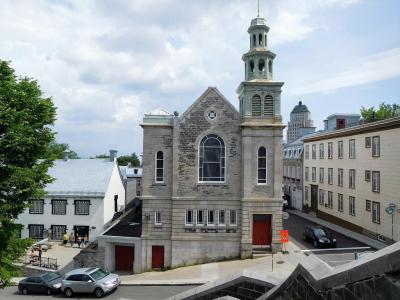 Jesuit Chapel (Chapelle des Jesuites), Quebec City
After having been banished by the British and then, in 1774, by the Pope himself, the Jesuit community was revived in 1814 and returned to Québec City in 1840. Since its college and church on Place de l'Hôtel-de-Ville were no longer available, they were welcomed by the Congregationists, a brotherhood founded by the Jesuit Ponert in 1657 with a view to propagating the cult of the Virgin. This group built the Chapelle des Jésuites.

François Baillairgé designed the plans for the church, which was completed in 1818 (though the facade was redone more than a century later). The decoration of the interior began with the construction of the counterfeit vaulting. Its centerpiece is wood-carver Pierre-Noël Levasseur's altar (1770), but features other points of interest such as the original stained glass windows, along with sculptures, paintings, and regular photo exhibitions.
Jesuit Chapel (Chapelle des Jesuites) on Map
Walking Tours in Quebec City, Quebec