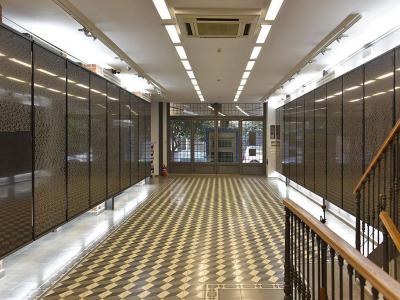 Jewish Museum, Thessaloniki
The Jewish Museum of Thessaloniki is a museum showing the history of Sephardic Jews and Jewish life in Thessaloniki.

It is also known as: "Museum of Jewish Presence in Thessaloniki", "Jewish History Museum".

The museum is being run by the Jewish Community of Thessaloniki.

Central to the first floor is a narrative history of the Jewish presence in Thessaloniki from the 3rd century BCE until the Second World War. A separate exhibit focuses on the Shoah, as it affected the Jewish Community of Thessaloniki. The majority of the community - some 49,000 persons - was systematically deported to Auschwitz and Bergen-Belsen where most of them perished.

The Museum provides special educational programs for schools.

The museum is a member of the Association of European Jewish Museums (AEJM).

Operating hours: Monday-Friday: 9 am- 2 pm; Wednesday: 9 am- 2 pm/ 5 pm-8 pm; Sunday: 10 am- 2 pm.
Sight description based on wikipedia
Walking Tours in Thessaloniki, Greece