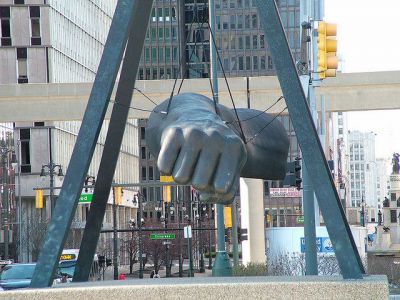 Joe Louis Memorial, Detroit
The Joe Louis Memorial is one of Detroit's most iconic sites. With its nickname "The Fist," this sculpture has a prominent place in Hart Plaza, making it one of the city's most popular attractions. Robert Graham designed to sculpture, while Rolf Kriken was the bronze artist responsible for the pouring.

This sculpture features an arm featuring 24 feet long. A 24-foot high pyramid-style framework supports a replica of Joe Louis' fist. The fist is an effective symbol highlighting Louis' history as a boxer, as well as a powerful symbol against racism.

The artist has described the fist like a battering ram to demonstrate its power. Another interesting feature is how the fist points towards Canada, showing that the American fight for democracy has crossed borders. This sculpture is a powerful symbol that is worthy of a photo opportunity.
Joe Louis Memorial on Map
Walking Tours in Detroit, Michigan