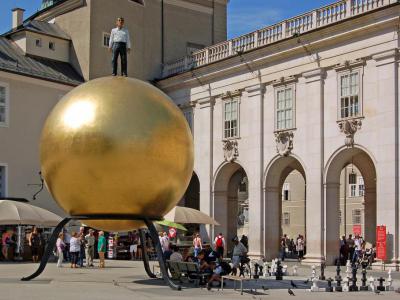 Kapitelplatz, Salzburg
Not least as a result of radical urban reconstruction measures under Prince Archbishop Wolf Dietrich von Raitenau, the Salzburg Cathedral is surrounded by several squares: Residenzplatz to the N, Domplatz to the W, Mozartplatz to the E, and Kapitelplatz to the S. This latter, diamond-shaped square is bounded not only by the Cathedral, but also by other residences and offices with ecclesiastical references, all serving as reminders of the powerful archdiocese that once ruled the city.

Aside from the very beautiful view of Hohensalzburg Fortress (perfect for taking pictures), three things stand out on the square itself: the giant chessboard that often draws a crowd, the playful modern sculpture of the 'emotionless man' on the golden ball ('Sphaera', 2007) by the German sculptor Stephan Balkenhol, and a spectacular Neptune's Fountain, built in 1732 on the site of one of the old horse ponds. Credited to another German sculptor, Anton Pfaffinger, the fountain shows the God of the Sea holding a trident and crown while being mounted on a seahorse spurting water. It looks a bit like a mini-version of the Fontana di Trevi in Rome, which is probably why many tourists throw coins into the shallow well.

Why You Should Visit:
Home to works of art both modern and historic, this square is also an event venue that often hosts festivities, artistic events and celebrations. Lined with restaurants, cafes and bars, it's a great place to relax and unwind, or be entertained.
Walking Tours in Salzburg, Austria