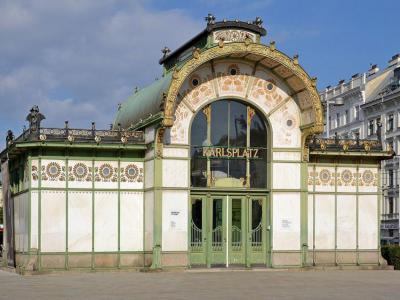 Karlsplatz Stadtbahn Station, Vienna
The master of Viennese Jugendstil, Otto Wagner was appointed architectural supervisor for much of the city's underground system in the 1890s, and the stylish pair of underground railway exit pavilions he designed next to Karlsplatz are among the city's most appealing buildings. Well known for their modern look, floral motifs, curving rooflines, and particularly for their exposed steel framework (in keeping with Wagner's belief in architectural honesty), they've achieved the perfect melding of form and function for the architectural world.

Having opened to the general public in 1899, the original old line was converted to the newer UBahn rail system in the 1980s. For this purpose, plans were made to destroy the old Stadtbahn station; however, a cry of outrage from the Viennese community saved the two pavilions. In order to make them function as part of the modern rail system, they were first completely dismantled, then re-assembled on a structure that was 7 feet taller than before. The two pavilions face each other: one is now a quirky café; the other hosts an exhibit on Wagner's most famous work, with a model of the architect's stunning Church at Steinhof as its centerpiece.

Tip:
Around the Karlsplatz you can also find the grand University of Technology, the splendid Baroque Karlskirche (St. Charles' Church), the Vienna City Museum and the startlingly original Secession Building – a key architectural icon of Vienna. In the summer, Karlsplatz is a great place to sit under the trees of Resselpark.
Karlsplatz Stadtbahn Station on Map
Walking Tours in Vienna, Austria
Useful Travel Guides for Planning Your Trip
--- Top 16 Austrian Things to Buy in Vienna
Vienna stool, Viennese schnitzel, Viennese waltz, Vienna sausage, Viennese apple strudel... There's so much Vienna to it, that you might think you've heard it all. Luckily, chances are that you haven't and there's much more in store left to be discovered about this fascinating... 7 Ultimately Austrian Foods to Taste in Vienna
Once the center of the vast Hapsburg Empire, stretched from France in the West to Russia in the East, Austria has embraced many ethnic influences in its cuisine over the course of centuries. Many of the country's distinctive dishes reflect its multinational heritage. Coffee culture, for...