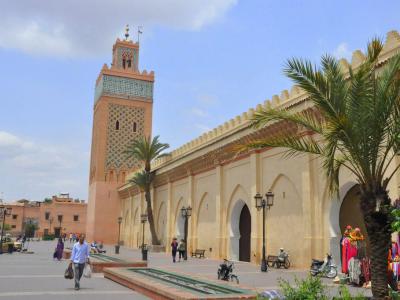 Kasbah Mosque, Marrakech
The Kasbah Mosque is the second-best-known mosque in Marrakech, after the Koutoubia, and is also one of the biggest and oldest – built in 1190 – where you can still find some typical features of the Almohad architecture. The mosque opens out on a nice square surrounded by interesting buildings, and features a noteworthy minaret – prototypical for many later minarets built in the Maghreb and al-Andalus, with decorations different from those found in the Koutoubia. The imposing exterior of the mosque features high walls crowned at the top by merlons above the row of corbels. Along the walls are the large pointed horseshoe arches, most of which are now walled-in, while some frame the gates of the mosque or accommodate shops.

After successive restorations, the mosque is now in a perfect condition and is actively in use – the call for prayer draws in many hundreds of worshipers here daily (although some say there's enough room to accommodate many thousands of them). Access for non-Muslims is prohibited, but it is just as pleasant and relaxing to sit outside and enjoy the atmosphere. The area is much quieter and more open than most elsewhere in the Medina quarter; here are some really nice cafes to sit at and enjoy the sight of the surrounding impressive architecture.
Walking Tours in Marrakech, Morocco