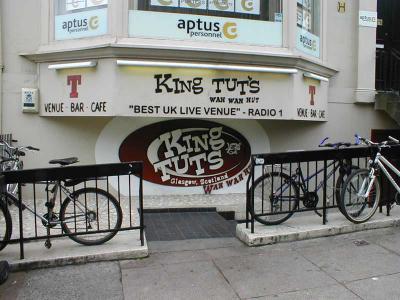 King Tut's Wah Wah Hut Bar, Glasgow
King Tut's got its name from the original King Tut's in New York City. The New York Tut's operated in the eighties and nineties on Avenue A on Manhattan's Lower East Side. It was a club and theater space and experimental venue. Glasgow's King Tut is a live music venue and bar. It carries on like the NY club but also in its own way.

It was started in the old Saints and Sinners club on St.Vincent Street in Glasgow. The spark plug for this venture was Stuart Clumpas of DF Concerts fame. Clumpas wanted to have a platform for bands at the club level. He wanted to hold gigs seven days a week at earlier hours. It was impossible to find venues like that at the time in the city.

The club went open in 1990. It is known for backing bands new to Glasgow and Scotland. The Verve, Radiohead and Oasis have played at the venue in two week stands. The success and good name of King Tut's is based on their consistent backing of new talent.
King Tut's Wah Wah Hut Bar on Map
Walking Tours in Glasgow, Scotland