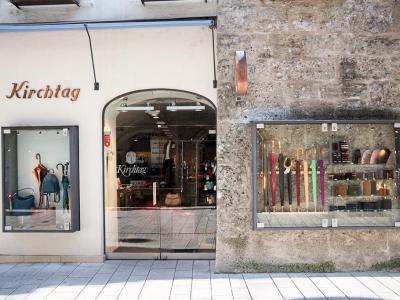 Kirchtag, Salzburg
Kirchtag Shop, established in 1903, specializes in crafting unique, handmade umbrellas of exceptional quality. For over a century, the Kirchtag family has maintained the tradition of masterful umbrella-making at their workshop located in the heart of Getreidegasse, a busy shopping street in the historic Altstadt of Salzburg.

Originally known as the "Alois Kirchtag Parasol & Umbrella Shop," the business opened at No. 50 Getreidegasse, later relocating to No. 45 before settling at their current address, No. 22 Getreidegasse, where the workshop and shop still operate.

The company's primary focus is producing top-notch, handcrafted umbrellas. Their exclusive product line includes the limited edition (200) Porsche Design umbrella. They also fulfill requests for custom-made umbrellas to match a specific tie, featuring golden bonnet embroidery or serving as wedding umbrellas.

Kirchtag Shop offers a diverse range of products, including garden umbrellas and sun shades for private households and restaurant gardens, leather goods, cases, bags, gloves, and walking sticks used as walking aids or stylish accessories for elegant outfits.

Opening Hours: Monday-Friday: 9:00 - 18:00, Saturday: 9:00 - 17:00, Sunday: closed.
Walking Tours in Salzburg, Austria