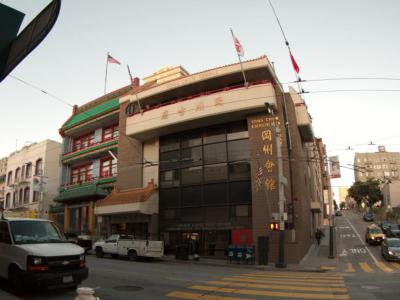 Kong Chow Temple, San Francisco
Founded in 1851 by Chinatown's Cantonese community, the Kong Chow Temple is dedicated to Guan Yu, who is worshipped by many different strands of Chinese society (in mainland China, Taiwan, Tibet, Hong Kong and beyond) as an defender of the code of brotherhood and a symbol of fraternal loyalty. The sculpture of the mighty Guan Yu, which serves as the main altar, is very rare to find; in fact, this is one of the very few places in the U.S. where you can see the robust image of this Chinese God.

Due to the original building having been destroyed in the 1906 quake, the temple was relocated to its present site in 1977. Legend has it that the wife of Harry Truman once visited here to pray for positive results to her husband's presidential run and also asked for a prediction about the results. While there, she held a container of Kau cim sticks, and shook them until one of the sticks fell to the ground. This stick was then exchanged for a piece of paper, which told a story, offering insight to her question. The prediction was favorable, and Truman would go on to win the presidential election. The prediction slip that was given to her is still displayed in the temple.

For your visit, be prepared to climb the stairs and make a small donation; a lady will then take you around to place incense at each station. It's a nice 10- or 15-minute excursion that you can mention to your friends when you get home.
Walking Tours in San Francisco, California
Useful Travel Guides for Planning Your Trip
--- Divine Artisan Chocolates in San Francisco
San Francisco is home to the most delicious artisan chocolates! From the historic Ghirardelli Chocolate Factory to New American TCHO chocolates, there are many local chocolate boutiques and factories to visit where you might be treated to a few samples. From exotic flavors such as lavender-walnut... 14 Souvenirs That Scream San Francisco
Home to many historic landmarks, such as Golden Gate Bridge, Chinatown and Alcatraz, San Francisco is closely associated with many iconic images of the American culture, such as Levi's jeans, baseball, and hippie movement. Modern Frisco carefully preserves its legacy by keeping it alive...