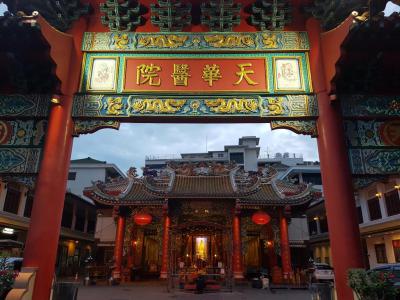 Kuan Yim Shrine, Bangkok
The colorful Kuan Yim shrine was established during the reign of King Chulalongkorn (Rama V), in 1903 and completed in 1905, as part of the Thian Fa Foundation. The Foundation itself was set up, as a charitable organization, in 1902 by the Chinese immigrants in Bangkok. The buildings surrounding the shrine are a hospital.

The latter, originally, was to provide free traditional Chinese medical care to the poor and homeless, while the shrine took care of the spiritual part of the healing process. Today, the hospital delivers both traditional Chinese and conventional modern treatments.

The temple's patron, Kuan or Guan Yim, is the Chinese goddess of mercy. Also known in Thailand as Bodhisattva Phra Avalokitesuan, she embodies love, kindness, compassion and forgiveness, and as such has been worshiped for almost 3,000 years. The beautiful statue of Kuan Yim displayed at the temple, carved from teak and painted gold, is about 900 years old. It dates all the way back to the Tang dynasty and was imported from China in 1958. With her right hand Kuan Yim makes the Varada mudra, the gesture of charity and offering.

The temple walls are painted with colorful, Chinese-style murals depicting various deities. This is one of the most popular shrines in the area, being particularly busy on Chinese holidays (e.g. New Year). Locals come here to pray for blessings in fertility, success (e.g. students in time of exams), health (those visiting patients at the hospital) and happiness. Worshipers bring flowers, burn candles or light incense sticks that they put in a bowl filled with sand.

The shrine is open daily until late hours. The atmosphere is usually quiet and serene. NOTE: make sure to take off your shoes before entering.
Walking Tours in Bangkok, Thailand
Useful Travel Guides for Planning Your Trip
--- Top 15 Things to Buy in Bangkok
Well-made, local products not only remind people of the trip they've had, but also make great gifts to bring home to family and friends. Following is the list of original and representative of Bangkok local specialties that you might wish to consider as a memorable... 7 Places in Bangkok for Superb Street Food
Eating is huge in Bangkok, and luckily for the famished, you won't be that way for long, regardless of the hour. You can find conglomerations of vendors selling five-star fast food (in the you-won't-have-to-wait-long-to-enjoy-it sense, not McDonald's style) for under 100 baht (roughly...