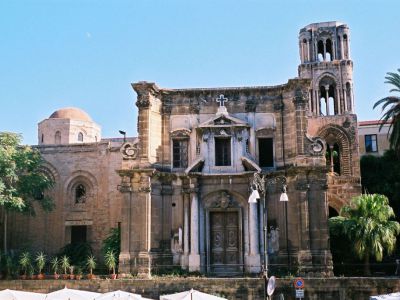 La Martorana (Martorana Church), Palermo
(must see)
La Martorana is also known as The Church of St Mary of the Admiral. The admiral was George of Antioch, a Syrian Christian and principal minister of King Roger II of Sicily. George was not only the King's main man, he founded this Eastern Orthodox church.

The charter is dated from 1143 and written in ancient Greek and Arabic. Construction may have started before 1143 but the church was finished definitely by 1151. George died that same year. He and his wife are buried in the narthex of the church.

In 1193 or so Lady Eloisa Martorana moved in next door with her own division of Benedictine nuns. She established her convent which eventually took over the church, thus giving it the name "la Martorana." The nuns of Martorana created sugary treats in the form of fruit. The nuns have left but the Martorana fruit is still popular today.

The church has undergone architectural changes since it was built. The narthex houses the tombs of George and his wife. The campanile, elaborately constructed with arches and loggias, still is used as the main entrance.

The church is famous for its interior. A series of Byzantine mosaics are similar to those in the Palatine Chapel and Cefalu Cathedral. Mosaics on the walls show Roger II receiving the crown of Sicily from none other than Jesus. The dome over the nave has Byzantine images of Christ Pantokrator with saints, prophets and evangelists.
La Martorana (Martorana Church) on Map
Walking Tours in Palermo, Italy