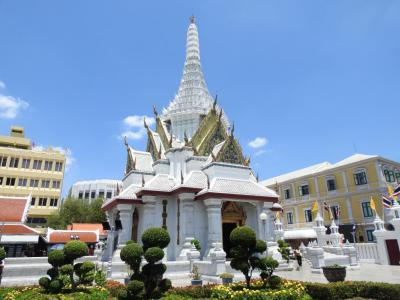 Lak Mueang (City Pillar Shrine), Bangkok
Lak Mueang are the so-called city pillars that are present in most cities throughout Thailand. Usually, they are placed in a shrine that accommodates the city spirit deity, Chao Pho Lak Mueang. This ancient tradition is rooted in a Brahman custom involving the Held ceremony (Held "Lak Muang"), whereby a single pillar made of acacia wood, called Chaiyaphreuk (which literally means the "tree of victory"), was erected, as a spiritual center – "soul" – of the city, before its proper construction began. The pillar was then venerated by citizens who sought prosperity and success, as well as to avoid misfortune.

King Rama I installed the city pillar here, on 21 April 1782, after moving his capital from Thonburi to Bangkok. The shrine was the first building in the new capital, constructed even ahead of the royal palace. Bangkok's pillar shrine (known locally as San Lak Muang) is one of the most ancient, sacred, and magnificent shrines of this sort in Thailand.

The first pillar stood 470 centimeters (190 in) high, buried 200 centimeters (79 in) deep, and measuring 74 centimeters (29 in) in diameter. Inside it there was a horoscope for Bangkok. In the mid 19th century the original shrine was rebuilt and the pillar refitted with a fresh horoscope. In 1852, another pillar was added – 5.115 meters (201.4 in) tall, 47 centimeters (18.8 in) in diameter at the bottom, with a base of 180 centimeters (71 in) wide. The refurbished pavilion, with a spire (prang) modeled on the shrine of Ayudhya, was inaugurated on 1 May 1853.

According to the In–Chan–Mun–Kong legend, the construction required a sacrifice of four people following the proclamation of the words "in–chan–mun–kong" ("in" to the north, "chan" to the south, "mun" to the east, and "kong" to the west) around the city. Anyone who responded was captured, brought to the ceremonial location, and buried in a hole. Their spirits were believed to be guarding the city. No documented evidence, however, supports this myth.

People usually use three incense sticks, one candle, gold foil, two lotuses, two flower garlands, and one three-colour taffeta to worship at this shrine.
Sight description based on Wikipedia.
Lak Mueang (City Pillar Shrine) on Map
Walking Tours in Bangkok, Thailand
Useful Travel Guides for Planning Your Trip
--- 7 Places in Bangkok for Superb Street Food
Eating is huge in Bangkok, and luckily for the famished, you won't be that way for long, regardless of the hour. You can find conglomerations of vendors selling five-star fast food (in the you-won't-have-to-wait-long-to-enjoy-it sense, not McDonald's style) for under 100 baht (roughly... Top 15 Things to Buy in Bangkok
Well-made, local products not only remind people of the trip they've had, but also make great gifts to bring home to family and friends. Following is the list of original and representative of Bangkok local specialties that you might wish to consider as a memorable...