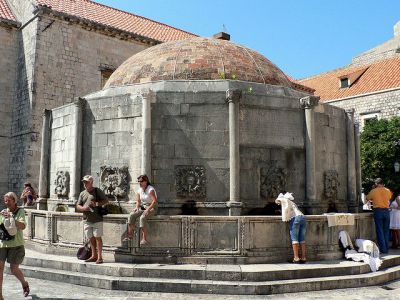 Large Onofrio's Fountain, Dubrovnik
Dominating a small square between the Franciscan Monastery and the Pila Gate is a round polygonal structure, called the Big Onofrio's Fountain. It was built in 1438 by the prominent Italian architect from Naples, Onofrio di Giordano della Cava, who is also responsible for designing waterworks and other fountains in the city, as well as the Rector's Palace. Throughout 1435-1442, he had designed and constructed in total 12 km of water supply lines which brought water from the Knežica spring, Šumet River in Rijeka Dubrovacka to the Old Town. These waterworks remained in use up until the late 19th century.

As for this fountain, it is indeed big and, perhaps, the most popular creation of Onofrio in Dubrovnik. The fountain is topped with a cupola and embellished with 16 stone water taps carved in the form of masks (maskerons or maskeroni), plus a statue of a dog sitting on top of the fountain wall. Lovingly referred to by the locals as "kuchak", which means the fountain dog, this is a replica of the original dog statue that was badly damaged and then reinstalled in 2016. The entire fountain also suffered severe damage during the 1667 earthquake but has been painstakingly rebuilt ever since.
Large Onofrio's Fountain on Map
Walking Tours in Dubrovnik, Croatia