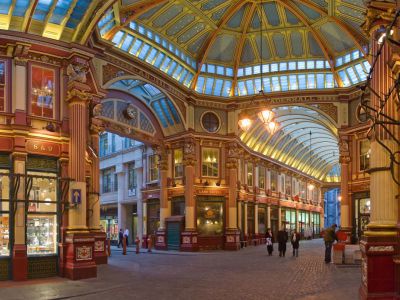 Leadenhall Market, London
Originally the location of Londinium's Roman Forum, this place has accommodated two millennia of trade. Its name was derived from the innovative lead roof of the medieval market hall. The present-day hall, a classic Victorian structure from the 19th century, complete with its charming iron meat hooks, serves as a retreat for office workers. In this 21st-century era of towering skyscrapers, it survives solely due to government protection. While exploring this area, you'll encounter pubs, stores, and even a traditional shoeshine station, making it a truly enchanting destination for shopping.

***HARRY POTTER MOVIE***
The contrast between the ancient market and the modern high-rises is believed to have sparked J. K. Rowling's inspiration for creating Diagon Alley, the shopping hub of the wizarding world where Hogwarts students stock up on school supplies like spell books and wands. Harry and Hagrid pass through the market on their way to the Leaky Cauldron, which holds a sneaky entrance to the alley.

In both "Harry Potter and the Philosopher's Stone" and "Harry Potter and the Goblet of Fire," an unoccupied storefront at 42 Bull's Head Passage (in Leadenhall Market) served as the entrance to the Leaky Cauldron. The shop was vacant at the time, allowing filmmakers to paint it black and install a Leaky Cauldron sign for the scene. Its distinctive rounded blue doorway is now instantly recognizable to Harry Potter enthusiasts. Today, the shop is home to Glass House Opticians, so you might even chance upon Mad-Eye Moody here, getting fitted for a contact lens with a bit of luck...
Walking Tours in London, England
Useful Travel Guides for Planning Your Trip
--- London Souvenirs: 20 Distinctively British Products for Travelers
Most visitors to London consider shopping as part of their must-do London experience. From street markets to Victorian arcades to snobbish Sloane Square to busy Oxford Street, there are a host of shops selling items which typically represent this vibrant city. Whether you are shopping for souvenirs...