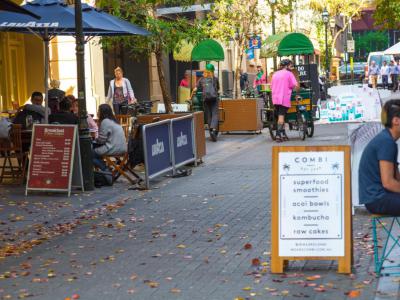 Leigh Street, Adelaide
Leigh Street is a small street in the midst of the central business district. The street runs north to south from Hindley Street to Currie Street. The pedestrian-only street is a narrow, cobblestone walk that is flanked by historic buildings, eateries and boutiques.

Visitors to Leigh Street will find themselves in the midst of a hip neighborhood with plenty of traffic during the day and at night. It is a great place to go to see Adelaide locals who know where the hottest trends are in both dining and nightlife. Many tourists visit the street during the day as part of a city tour, and then return at night for a relaxing break from sightseeing.

Visitors will see plenty of unique, locally-owned restaurants that serve everything from sushi to baked goods. Those walking through the street in the morning can choose from a variety of coffee places while those traveling in the evening can stop for a cocktail.

The cobbled street and the canopied buildings show a piece of old Adelaide that is not often detected in the midst of a bustling city. It is a short street, but well worth checking out when you in a Adelaide.
Walking Tours in Adelaide, Australia