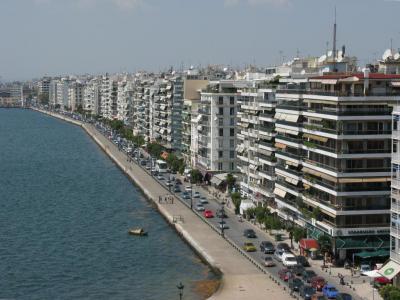 Leoforos Nikis/Nikis (Victory) Avenue, Thessaloniki
Leoforos Nikis ("Victory Avenue") is the most famous, busiest, photographed, painted and by far the most expensive thoroughfare to go shopping in the heart of Thessaloniki. The three-line central street, whose pedestrian part is known as Old Waterfront, stretches from Eleftherias Square and the Port, crossing the entire coastal front, past Aristotelous Square towards the White Tower and Alexander the Great Avenue.

Prestigious as it is, Victory/Nikis Avenue is a home to the most luxurious and sought-after residential and commercial properties in the city, as well as some of the most expensive addresses in Southeast Europe. The consulates of Switzerland, Spain, the Czech Republic, Cyprus and the Philippines are found here too.

Highly valued commercially and often associated with entertainment, Nikis Avenue accommodates the city's best nightclubs, dozens of bars and restaurants, not to mention numerous retail options attracting thousands of tourists and locals every day. Over the years it has also housed some of the most iconic cafés and patisseries in the city, including Crystal, Olympus and Alhambra, alongside seven historic cinemas (Hellenis, Elysia, Rex, Zephyros, Rio, Olympia, Olympia) and four luxury hotels (Olympus-Pallas, Mediterranean, Majestic, Splendid) in the wider area around the seafront.

From the end of the 19th century until present, the Avenue has changed a number of names, such as "Beyaz Kule Avenue" – during the Ottoman rule until the liberation in 1912; "Vasileos Konstantinou Avenue" – until 1939; and finally "Nikis Avenue" – from 1939 onwards, commemorating victory in the Balkan Wars of 1912-13.

The wide pedestrian sidewalk, directly on the waterfront, has been a constant lure for both visitors and locals, seeking to stroll down the famous avenue and enjoy the expansive sea views.
Sight description based on Wikipedia.
Leoforos Nikis/Nikis (Victory) Avenue on Map
Walking Tours in Thessaloniki, Greece